In 2021, Pal Experiences was named Slalom's annual 'Partner for Good'. Slalom is a global, modern consulting firm that helps companies tackle their most ambitious projects and build new capabilities. Since 2014, Pal Experiences has enabled more than 100,000 families impacted by disabilities to have meaningful outings at Pal Places with customized, know-before-you-go tools. The unique relationship presented by Slalom provided Pal with the extraordinary opportunity to sit down with leading business experts to think deeply about where we are now, and who we are on the journey to serving explorers like you. The firm's complimentary strategy expertise has us seeing our relationship with you in 20/22.
By taking a microscopic look at our brand identity in the community, Pal is now even more prepared to serve as a source for collective experiences that are:
| | | |
| --- | --- | --- |
| Together-ready | Accessible | Inclusive |
| Pal is passionate about bringing people together and sharing experiences. Pal Places support a variety of needs so that your whole family can feel confident exploring together. | Our tools and resources help families and individuals impacted by invisible disabilities gain access to spaces where they may previously have felt left behind. | While we focus on supporting invisible disabilities, our tools and resources can be assets to everyone preparing for an adventure. |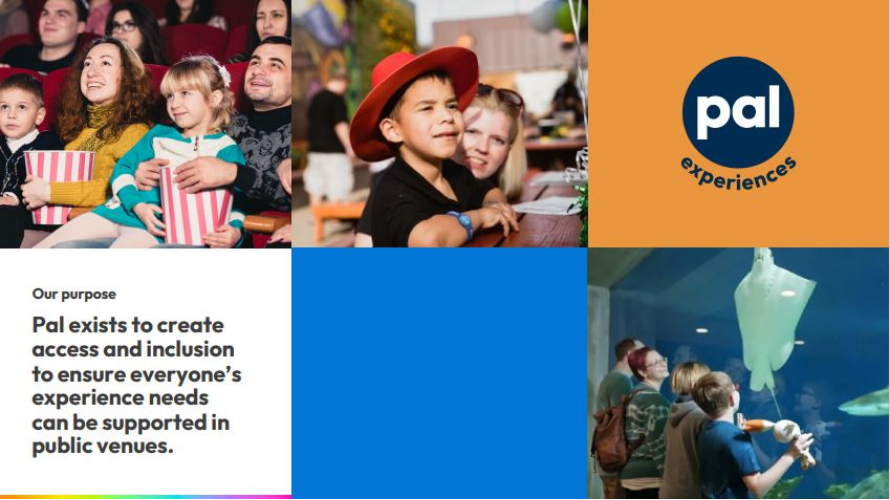 Guaranteeing that #EveryoneGetsToGo takes work from a brave group of explorers who share these values with us:
| | | | | |
| --- | --- | --- | --- | --- |
| | Inclusion | Community | Adventure | Empowerment |
| Definition: | Through trust and approachability, we set the environment for everyone to feel comfortable and included. | We bring people together to support Explorers in finding meaning through connection with the local communities. | We inspire discovery and exploration and believe that no outing is too small to be celebrated. | Our tools and resources help Pals find accomplishment and pride in their everyday life. |
| The Proof: | Pal Places offer support for a multitude of needs that may negatively impact an experience. | Pal Places include day-to-day venues that allow access to common destinations around the community and offer more active engagement. | There are Pal Places of all types, like sporting venues, museums, aquariums, and more to create access to collective experiences. | Location guidance content is clinically certified to ensure anyone participating can easily us the tools to confidently engage. |
Through its work with Slalom, Pal Experiences has a deep understanding of its role in the community and is hyper-focused on building meaningful relationships that promote inclusion for all.